| | | |
| --- | --- | --- |
| | Enigmai | |
Welcome to the Web Site of Tony and Trish Cassidy (& Girls)


| | | |
| --- | --- | --- |
| | | |
| Lucy with her mother Amber | Crystal with her mother Jade | Ziva with her mother Willow |

The Kennel Club affix Enigmai is derived from our house name which is ~ Enigma. This was arrived at many years ago when we wished, to paraphrase a very old TV series (The Prisoner), have a house name - not just a number. After many hours puzzling over numerous names and combinations the answer prompted itself as Enigma = puzzle.

We had not really thought about breeding until our son bought Heidi (Oakash Lady In Red) as a Christmas 2000 present in case the unforseen happened to Holly our collie/spaniel cross. Suffice it to say that Holly stayed with us until 2005 when we had to ask our vet Kam to perform the ultimate act of kindness.

Since then we have experienced the joy/trepidation/worry/delight of that one o'clock in the morning birth and the sheer wonderment of holding new born puppies in your own hands ~ and with one of Heidi's litters, staying up with her all night until the first birth at 6:05AM! Sadly Heidi's last litter in 2005 whilst producing four very healthy and boisterous puppies was her last as she had to have a caesarean and was speyed at the same time. Sadly it also has its counterpoint of those lost pups whom Mother Nature decides are not to be ~ thankfully for us that is not too many ~ but we are confident that they are all waiting for us over Rainbow's Bridge.

That's just the easy part! It is all the rest of the 'details' that go with it. Making sure that the pups are all right, getting the vet to check them out, register them with the Kennel Club, wean them, start their house training when they are old enough and arrange for them to be put on the Puppy Registers, as well as answering the e-mail enquiries regarding the puppies and a host of other related subjects. All this in 8 weeks!

The hardest part is letting them go ~ Trish cries for each and every puppy as it leaves with its new owners ~ with Maximus, Poppy, Diesel and Harvey that also included our daughter-in-law crying as well!!. I suppose that's a cross we have to bear with raising pups as part of the family.

The reason we kept Amber is that she was the first born of the first litter - sentimental I know but.............. After waiting ourselves for over 10 months to purchase Sasha we then decided to keep Lucy, the only Tri bitch from Amber's first litter, and until now, the only tricolour bitch we had managed to breed so far, (there goes that old sentimentality thing again). Now - thanks to the 'kiss-of-boys' from our daughter - we introduced a new young lady to our dog-crazy home - Jade (Pacchibei's Sheer Magic At Enigmai) whilst with Sasha's third litter we have managed our second Tricolour bitch ~ Willow. Now that 'puppy' brings a whole new meaning to the word exuberently mad ~ but, like all the others, she is loving with it ~ it's just that she is VERY outward in demonstrating her love and playfullness.

With paperwork duly completed confirming that the girls have clear, healthy hearts (and the rest of them) and do not have Multifocal Retinal Dysplasia (and are duly 'certificated') together with taking part in the Canine DNA Scheme the Kennel Club awarded us Accredited Breeder status. To find out what this means for everybody follow the Kennel Club link on the Links page. HOWEVER after being part of the scheme for a little under two years we felt that, whilst the idea of the scheme was sound, the restrictive practices subsequently being imposed were not for us. Whilst already meeting the aims of the scheme by following the Code of Ethics of the Cavalier King Charles Spaniel Club and meeting the rigorous standards of a yearly inspection by Eastleigh Borough Council Animal Welfare Department, it was beyond the pale for the Kennel Club to then say we could not use the stud dogs we have been using all these years because they were not part of the Accredited Breeder scheme, and indeed had to include a letter of 'apology' to the new owners stating that the stud dog used was not part of the Accredited Breeder Scheme. This was the owners choice, and it was because of this restrictiveness that we withdrew from the scheme and reverted to being an 'ordinary' breeder, and we now also enjoy the benefit of being able to register our litters online instead of by post!

As we only breed once or twice a year (occasionally three), and that entirely dependent on the girls' seasons prospective owners can only keep on eye on our site where we will always announce the imminent arrival of any litters. We have been asked a few times about our puppies going abroad to live, it is a decision we made right at the very start that we would only breed for the 'home market' and not export our progeny. Struggling as we do to meet the demand just from the South of the country we stand by our decision not to offer our pups for export.

Above all our dogs will always be our friends and part of the family, they are primarily pets and whether staying or going we believe in....................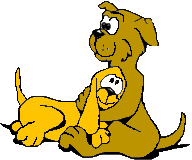 TOGETHERNESS !!
Reviewed:~ Feb 2016