| | | |
| --- | --- | --- |
| | Enigmai | |
| | | |
| --- | --- | --- |
| | Latest News | |
10 Dec - Happy 10th Birthday for today to Louis, Coby, Jasper and our own scamp Willow from our dear departed Sasha's third and last litter in 2008 ~ speaking of which here are pictures of Willow and Louis enjoying life as ten year olds and two of Keira (Lucy's sister) enjoying life at 14 years young looking incredibly like her mother at the same age.


| | |
| --- | --- |
| | |
| Willow | Louis |
| | |
| Keira's 14th Birthday party..... | .....and resting after a walk |


8 Dec - Happy 11th Birthday for today to Bailey and In Memorium to brother Charlieboth from Lucy's second litter in 2007 ~ truly amazing how the years fly by. As an aside though Ziva has just decided she will have a season so in about ten days time off we will go to see Abbie's dad (Jolainey Rolls Royce for Burleybeck) ~ watch this space as they say.

27 Nov - Happy 7th Birthday for the 27th November to Stan and Hendricks - hope you boys have a wonderful day. In addition Vicky has sent us a couple of brilliant pictures of Izzie which I have included below.


| | |
| --- | --- |
| | |
| Izzie with her new kennel companion | Izzie out for a stroll on the water |


11 Nov - Just received another 1st Birthday photo today - this time it is Cilla marking the occasion. Said photo below with her web page updated as well.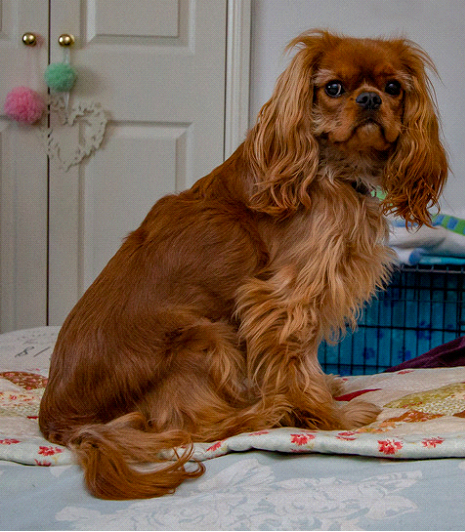 Cilla



11 Nov - Well been a bit lax at updating the website of late but (as a lame excuse) I am busy working through the last half of the alphabet for photo pages but nonetheless we can always spare the time for birthday wishes and in this case it is Happy 1st Birthday to Bugsy, Cilla, Matsy and Nico from Crystal and Chutney's litter last year. Hope you all enjoy your special day and below I have included pictures of Matsy and Nico which we have just received to mark the occasion.


| | |
| --- | --- |
| | |
| Nico | Matsy |


26 Oct - Happy 3rd Birthday to Mouse and Rosie the brother and sister from Crystal's (Enigmai Lady Crystal Megara) first litter with Ace (Enigmai Sir Triphane Cadmus at Pacchibei). Enjoy your special day.

8 Oct - Finally accomplished this years update/review of all the photo pages for A to M which took longer than normal as it turned out not only were there 100 pages to review but quite a few new photos to add as well. Next comes the photo pages for all the dogs in the range N to Z ~ might not be as many.....

26 Sep - Just a few birthday wishes today ~ firstly let us wish Keira, Duchy and Ralph a very happy 14th birthday and In Memorium to their litter-mates Lucy, Molly and Monty.
Also happy 13th birthday Maximus and Poppy and In Memorium to to their brothers Diesel and Harvey
and In Memorium to first two puppies we ever bred back in 2002 without which we would not carried on breeding ~ sadly missed.

23 Sep - Firstly let us wish Chloe a very happy 14th birthday and remember her sister Buffy. On the other side of the spectrum I managed to finish the compiling and editing of the pups early weeks from birth so now Bo, Buddy, Harley and Ralph's owners can see what fun they were. Still in the process of updating all the various webpages but unfortunately life keeps getting in the way of everything I plan ~ which is annoying as we have received quite a few photo's that need to go on the appropriate pages. We must also thank the many friends and others for the numerous commiserations and cards on the loss of our beloved Lucy ~ it would have been a lot harder to bear without the pups and the rest of the girls to keep us focused.

31 Aug - Well the end of an eventful month as well as the official meteorological end of summer and I have finaly updated the website with Bo, Buddy, Harley and Ralph's own pedigree and Photo pages. Unfortunately I have also had to update the Rainbow Bridge page to take into account the passing of Jonty, Charlie and Lucy ~ but I have also changed the rainbow poem to a more poignant one. Also, in honour of the perennial granny-ship of Lucy I have added another Lucy photo page dedicated to her love of ALL puppies not just her own. Now ~ all I have to do is edit two months of puppy videos to make one DVD!

15 Aug - Buster/Geoffrey has undegone another name change and will now be known as Buddy he will be off to live in New Milton with his new owner come Saturday.

11 Aug - Well Bo and Ralph have now departed to join their new families and already it feels strange. Harley is due to depart on Monday but sadly, due to circumstances beyond their control, Geoffrey is now not leaving tomorrow and is consequently looking for a new home. The young man in question is pictured below.



3 Aug - With a very sad heart we have had let Lucy travel over Rainbow's Bridge. All her ills, aches and pains suddenly coalesced today and with the terrible heat meant she could not get a proper drink without collapsing and could not get comfortable in any position so we had to make that terrible, but inevitable, decision. Like her mother she passes on just shy of her 14th birthday - the gentlest of gentle grandmothers and granddaughters who gave us thirteen boys and girls and was always ready to play with puppies. Sadly missed. Here is a photo of the lovely lady I just happened to take this afternoon when she was looking her best.




Requiescat In Pace




Sadly Dawn and Simon have written to let us know that due to health and mobility problems Charlie (Enigmai Sir Kunzite Triton) from Lucy's second litter in 2007 has now passed over Rainbows Bridge. Our thoughts are with them, it can be a great pain to bear after such a joyful loving relationship. Requiescat In Pace young man

27 Jul - All the boys now have caring homes to go to with Buster's new name being Spenser and will be joining Fergus and Stuart - a Blenheim and a Ruby.

25 Jul - The boys are settling well into their new 'bedroom' and getting used to their names ~ Bertie is now known as Bo ~ but due to family circumstances Buster is again looking for a loving family to adopt him.



22 Jul - Well here we are with another few weeks under our belts and puppy progress has been great. The boys have progressed from mum's milk to solid kibbles via puppy milk and soaked kibbles ~ with very little of mum's milk. They have also found that lapping water is not all that strange and can be very rewarding especially in the current heatwave with no end in sight for us so far ~ everybody seems to be having rain but us. The boys have also now changed rooms as they are now esconced in the dining room end with full access to the patio ~ when they feel like being brave enough to venture out that is. Seems strange to think that it is only three weeks until they are ready to go to their new homes, so far two of the boys have new names as Bart is now Ralph and Brian is now Harley. Katie and Abbie are doing a sterling job at surrogate mums/nannies and showing them that it is OK to go out on their own as can be seen below of Abbie with the pups on the patio.


| | | |
| --- | --- | --- |
| The boys cooking up trouble | Buster, Ralph, Harley, Abbie and Bertie | Abbie, Bertie, Buster, Ralph and Harley |


28 Jun - . . . . and what an eventful fortnight it has been . . . . .

First we had the trials and tribulations of Crystal giving birth to a stillborn puppy at 0430 on Sunday morning and then off we went for what seems a regular journey to the Animed Animal Hospital at Shedfield where we had to leave her in their more than capable hands. Two doses of Oxytocin and a few hours later she is the proud mummy of six male pups as shown below. Unfortunately Monday morning Barry, one of the Black and Tans faded away, as sometimes happens unfortunately. Then Tuesday afternoon poor Bret developed internal problems and we sadly lost him as well. The remaining four boys are now gaining weight each day and twitching nicely to develop their growth and leg muscles whils being admirably stimulated and fed by mummy ~ who does not let them out of her sight for long.

Meanwhile Jade developed a mysterious symptom in her paw which led to her collapsing and allowing nobody to touch it until the spasm had passed. By the third episode off we went to Pet Doctors where nothing could be found but over the next few days pus came out of a hole that appeared in the top of her paw. Flushing out and animal pennicillin later and she seems to be getting over it - touch wood!

Then just when things are going so well along comes Abbie and swallows a dropped Baclofen tablet before it could be picked up. Around to the vets we went were the little monkey suddenly perked up and seemed to have shrugged off the dizziness. The vet gave us the number of the Veterinary Poisons Information Service to check out the ramifications which turned out to be "Take immediately to your vet for further treatment". Meanwhile Abbie had brought up all her food and was starting to look decidely ill again, so off we went back to Pet Doctors where poor Nazima had to ring the poisons unit to find out the treatment. Said treatment being a drug that is not normally kept by veterinary practices so off we went to the Animed Hospital at Shedfield yet again in the height of rush hour. They took her away and started said treatment and by the next day she was thankfully starting to perk up - to such a degree that by 2030 the vets said we could take her home even though she had not passed any black motions from the liquid charcoal they had been feeding her. Indeed when we picked her up most of the nurses had been found one time or another playing with her in her pen and keeping her quiet when we got home went by the wayside as you can see from the welcoming she got from the rest of the girls.



Abbie being welcomed home



17 Jun - Firstly, Happy 9th Birthday to Ella, Poppy and Ace for tomorrow.

Secondly, the wait is finally over as starting at 0430 followed by almost a day at the Animed out of hours clinic Crystal is now the proud mummy of six boys ~ five Black & Tans and one Tricolour ~ not one girl.



Crystal and her boys

Bertie, Bart, Buster, Brian, Bret and Barry


21 May - Happy 6th Birthday to our very own Crystal and her brother Max. The days are now getting few for said Crystal who is due to give birth anytime from Friday onwards.

21 May - Well Kevin from Fairgolden Ultrasound and Microchipping came around this morning to scan Crystal who proved to be as awkward as always ~ although she laid their comfortably still as always it turned out that one horn has the pups up high and the other has the pups low. The results should be interesting as Kevin could see three in each horn ~ so that's 2 pups in the first litter, 4 pups in the second litter and a possible six in the third litter and one more litter allowed ..................



6 May - Good week/Bad week - Tuesday/Wednesday with no hot water but British Gas engineer turned up 0830 Wednesday morning and did not leave until nearly six hours later bless him. Identified the fault straight away which, because BG insisted the diaphragm is changed rather than the complete unit, took over two hours of struggle then when he turned the system on other seals failed because it was reaching the proper pressure. So the poor man had to dismantle it all again and replace the complete unit after all, and to make a bad day worse for him when he turned the water stopcock off it shot water everywhere because a nut holding the valve split - which he thankfully had a spare for in his van. All we have got to say is "Well done Dave from Home Serve/British Gas!"

That was the bad, now for the good. Friday we picked up Abbie from Gill's and what a darling she is - a credit to Gill and Pete Babb coping with ten puppies in litter and having them all survive to go new homes. It's going to very, very quiet (and clean smelling) in their house - they'll wonder what's wrong; it's quiet enough after five or six leave, after ten the silence is going to be loud. Not a murmur out of Abbie when she had her first jabs yesterday until the cold hit that is and even then she was quickly over it. She already insists on going out at 0500 for a widdle break but objects most loudly to going back in her pen. If you have ever seen those pictures of a wolf howling at the moon with it's head perpendicular to it's body - that's Abbie, and just as loud!

As well as Abbie we now also have four other puppies as part of the household - compliments of the local garden centre. Looking around, as you do, and we discovered CKCS puppies by Vivid Arts. No Black & Tan unfortunately and e-mailing the firm produced no results whether they did one or not - so it was a case of buy two Ruby puppies and then take all four down to Poppies Workshop and do a paint job to turn a Ruby into a Black & Tan and convert the greyish colouring on the Blenheim and Tricolour into proper Cavalier puppy colours. So now they are on the front wall with the three adults painted over the years that our daughter obtained from Wilco but we have not been able to get another one to make the set.



Abbie recovering from jab

Puppies with the adults on the wall

Puppies in the workshop


30 Apr - And just to show you should not do things in a rush I should have wished Bella and Honey a Happy 10th Birthday for today! Thanks Becky for pointing out the error in my maths.

29 Apr ~ Happy 8th Birthday to Bella and Honey for tomorrow ~ where do the years go? Hope the girls enjoy plenty of birthday treats. As for us, only five sleeps until Abbie joins us ~ although what she'll think when Crystal and Ziva are chasing Katie around the circuit and putting her in her place Lord only knows.

22 Apr ~ Another day closer to Abbie joining the fold and here is a couple of mobile phone pictures of the young lady in question from when we went to visit. Plus Mariam and Sarah have given us permission to copy some photo's of Hamlet and Prince from their Facebook pages so I have updated those two gentlemen's photo pages accordingly.



20 Apr ~ Happy 4th Birthday to our own Ziva and to her brothers and sisters, Nero, Honey, Izzie and Murphy for today. To prove everybody wrong at the end of Katie having her season she brought Crystal in a month early and so we had to go and see our friend Chutney in High Wycombe on Tuesday ~ now we wait and see if the portent is good and some little black and brown paws will join us for the summer.

8 Apr ~ Well, now that the pups are safely in their new homes, the new roof is on the bungalow, Easter has passed and our 45th wedding anniversary has been duly celebrated I have been able to do a bit of sorting out of the website so as well as Prince and Hamlet having their own Pedigree and photo pages I have been able to tweek a few changes to the photo pages for Bumble, Charlie(2),Chunk, Cilla, Crystal, Diesel, Hendricks, Izzie, Jasper(2), Katie, Lucy, Matsy, Murphy, Nico, Oscar, Bertie)2) (Roberta), Rosie, Teddy(1), Willow, Zak, Ziggy, Ziva and Zolo. Just a few photo updates to incorporate in one shot ~ you'd think I'd learn by now and update them when they arrive in the in box or via facebook!

4 Apr ~ Ours is a very quiet house, ours is. As usual still finding it strange without Hamlet and Prince around to add to the madness of the household. After choosing a bevy of photo's Prince and Hamlet now have their own picture pages (as well as pedigree pages) and mum Ziva has her new page for pictures of the litter. Just follow the appropriate link buttons above.

30 Mar ~ Happy 7th Birthday to Bertie, Queenie, Timmy, Buster and Oscar for today ~ all from Willow's 1stlitter in 2011.

Meanwhile ~ Hamlet and Prince have now had their first jabs, been microchipped, their eyes checked, paperwork done and had a nice shower ready for the off tomorrow for their journey's to their new homes. As usual it is going to be very strange getting used to the quietness without the boys play fighting and wanting their food.

22 Mar ~ Firstly, Happy 7th Birthday to Teddy (2), Riley, Holly and Charlotte for today and secondly R.I.P. to Poppy (3) ~ all from Jade's litter in 2011. Also R.I.P. to our own Sasha taken from us far too early at seven years of age.

We have now the Kennel Club paperwork for Prince and Hamlet so off we set down the M27 to Havant and Optivet Referals to have their eyes tested ~ little realising that the Kennel Club had changed the goal posts again and that puppies now have to be microchipped before eye testing. So a wasted journey on top of yours truly spending 40 minutes in the dentist's chair whilst same fought to extract a tooth that was infected. Unfortunately same tooth broke in two and part of it had fused into the jaw. Definitely not a happy place yesterday ~ especially whe there was the usual multi-vehicle collision on the M27 meaning fastest speed for 5-6 miles was between 0 and 8 MPH. Never mind at least they had their vet checks and first innoculations today.

17 Mar ~ Well good news for Jack and Jimmy but bad news for those people unsuccessful for giving them new homes as they have now been 'spoken for'. Jack is now Hamlet and Jimmy is now Prince with just a fortnight to go until they travel to Dunstable and Fareham which in the great scheme of things also means busy, busy for us as the pups also need to have their eyes and hearts checked, vet checked, first innoculations and microchipped and all paperwork done ready for the new owners.

13 Mar ~ Jack and Jimmy are now offered for sale to caring homes. Speaking of the boys they have adapted quite well to investigating the patio in spite of the weather and are progressing admirably with their weaning with ever increasing amounts of kibbles to fill their little bellies. At the minute they are at the play/fight hard, eat quick and sleep lots stage.