| | | |
| --- | --- | --- |
| | Enigmai | |
| | | |
| --- | --- | --- |
| | Latest News | |
10 Nov ~ Hot off the e-mail George and Wem have sent us a picture of Cilla taken this morning, pluse Sarah sent us couple of pictures of Prince down amongst the autumnal leaves.


| | |
| --- | --- |
| Cilla | Prince |


10 Nov ~ Happy second birthday wishes for tomorrow for Bugsy, Cilla, Matsy and Nico from Katie's first litter. Joyce has very kindly sent us a couple of photo's of the birthday boy and Cavalier friends, which you can see below.

On the home front, so-to-speak, amidst torrential rain, blocked M3, road closed outside the entrance to the village hall necessitating a detour to get to the other side we made the pilgrimage to the SCKCS Club Open Show at Normandy yesterday ~ the hassle factor was unbelievable just to get there but luckily it was not raining on arrival so Trish and the girls made it inside in the dry. However...... yours truly ended a bit damp getting everything from the car in the rain ~ and even worse there were no bacon butties left! Still, between them Ziva, Katie and Abbie managed to get a 1st, a 2nd, a 3rd and two Reserves. As ever the show dogs were magnificent to see in the ring so as 'itinerant' show people we were more than happy with the awards we got.



Nico

Bella (Tri - 2y), Rolo (Ruby - 18m), Nico and Bonnie (6 m)
enjoying each others company.


26 Oct ~ Birthday wishes today for Rosie and Mouse from Crystal's first litter with Ace (Enigmai Sir Triphane Cadmus at Pacchibei) who are celebrating their fourth birthday today.

20 Oct ~ In Memorium today for a very special lady ~ Heidi (Oakash Lady In Red At Enigmai) our very first Cavalier who joined our madhouse in 2000 ~ and what a super millenium baby she turned out to be. Nothing ever put her out and she was always a loving lady no matter the age of two- or four-legged companions and visitors.

25 Sep ~ Birthday wishes yet again for tomorrow this time, but first things first we remember with fondness the first two puppies we bred in 2002 ~ Amber and her sister Cassie from Heidi's first litter and Diesel and Harvey from her last litter in 2005; together with our own Lucy and her litter-mates Molly and Monty from Amber's first litter in 2004.

So... Birthday wishes to their surviving litter-mates ~ 15th Birthday greetings to Keira, Duchy and Ralph with 14th Birthday greetings to Poppy and Maximus. It did not matter which year it would seem that the 26th September was a busy time in our house.

22 Sep ~ Another fun filled month almost over with summer almost gone and the rain beating on the window time for a birthday greeting to Chloe and In Memorium to her sister Buffy - both from Heidi's third litter in 2004. Still progressing with the bi-enniel review of all the web pages and photo's which is now taking a bit longer to accomplish as mum-in-law had a fall on her 94th birthday and ended up breaking her femur in two places and ended up having a plate screwed in to hold everything together - so lots of hospital visiting to see a beautiful young lady whilst she recovers. So please bear with me if it takes a bit longer than normal to update photo page with pictures received.

4 Sep ~ Well here we are in September already and even down here in Hampshire there is more than a nip in the air when the sun goes down ~ ably helped by wind and rain on the odd occasion we get some. Finally finished going through all the photo's and individual photo pages so they are now all up to date with a selection of the wonderful photo's sent to us both before and after the PC crash. Next job now is to go through the miscellaneous pages to make sure that they are up to date plus the pedigree pages to make sure that I have got all the ancestral photo's included ~ keeps you on your toes because you have to keep two copies of the same programme open for comparison and copy/paste. What fun......

28 Aug ~ Apart from the real world interfering with the best laid plans, so far I have uploaded to the website updated/reviewed photo pages for Bertie3, Bo, Cassie, Charlie3, Cilla, Coby, Coco, Crystal, Dash, Dylan, Ella, Hamlet, Harley, Jade, Katie, both Leavers pages, Pedigrees, Residents, Ruby2, both Stud Dog pages, 3 x Willow, 4 x Ziva and , with the sad loss of Ella just after birthday, Rainbow's Bridge. Just a few down more to go!

17 Aug ~ Just a brief one to firstly thank those of you who responded to help us rebuild our owners database with your current details, secondly the mail has been recovered and I have managed to trawl through it and download all the photo's that have been sent of your four-footed family members - so the next step is to now go through all the necessary web pages and update the photo content - that'll keep me busy for a few days!!

In addition to all that Wen and George paid us a visit with Cilla (Enigmai Lady Opaline Caligo) after two hours seven very tired girls after much chasing and playing inside and out. Great to see them, nothing nicer.

28 Jul ~ Well, doesn't a hard drive going terminal really mess up your day/week/month/year! Although all our documents and pictures are stored in the cloud using our local firm Online PC Support who fixed the machine itself and re-installed the operating system architecture and programmes together with downloading all our files to the machine itself over a working week it has still meant installing quite a few of our own programmes myself - hence no web or Facebook updates for a while. Unfortunately the major drawback has been that, with the latest iterations of Windows 10 and Outlook we have lost all of our Contacts and Calendar data. Soooo.......

HELP

If you are/have been an owner or owners of an Enigmai Cavaliers puppy since we started breeding in 2002 could you please, please help us out by sending us an e-mail with your current contact details to us HERE. It really will be an enormous help.

28 Jun ~ Wishing a very happy 10th Birthday for today to Rosie, Ruby, Sadie and Harry. Hope you all enjoy your birthdays and are not suffering too much with the heat.

19 Jun ~ Firstly, apologies to Bo, Buddy, Harley and Ralph ~ belated Happy 1st Birthday wishes to you all for the 17th June and many thanks to Julia for the reminder. Birthday reminder now duly inserted into the electronic calendars so that it does not happen again.
Secondly, Happy 2nd Birthday wishes to Ziggy, Jasper, Bertie and Chunk for the 20th June. Hope you all had/have special birthday days with your families.

18 Jun ~ Time to wish a very happy 10th Birthday for today to Ella, Poppy and Ace. Hope all your birthdays are better than the weather we are experiencing at the moment.

10 Jun ~ Well first we have to wish Max and our own dear Crystal a very happy 7th Birthday for today - hard to believe that Crystal's next litter will be her last due age and maximum permissable number of litter reached. Thankfully Trish's mum is now very much back home from hospital and recovering in her flat and looking better each day. Now if the computer will just behave so that I can get the puppy videos of Ziva and Katie's litter finished together with the new pages for their litters on the website and the weather turns dry so I can get on with the outside jobs that would be really tremendous.

25 May ~ No birthdays to celebrate this week - except family ones that is. The house really is strangely quiet (except for the neighbours) now that after three and a half months of puppy minding, feeding, playing, et al have elapsed and all the puppies from both Ziva and Katie's litters have settled into their new homes and bringing joy to their new families ~ the main reason we decided to breed in the first place. Hopefully Nan will be home next week and the daily 3 - 4 hour round trip will be a thing of the past and one can get back to updating the website with new photo's and creating new photo/pedigree pages.

9 May ~ Happy 9th Birthday for yesterday to Lexie and Teddy and In Memorium to their sister Millie, all from Lucy's fourth litter in 2010. Hectic times at the minute with hospital visiting to Trish's mum, Barton On Sea for microchipping and Seadown for eye examinations, walking our six girls - and of course plenty of puppy play time. All of which gives me ten days to get all the paperwork together ready to leave for their new homes and families.

30 Apr ~ Happy 11th Birthday for today to Honey and Bella from Amber's third litter in 2008.

28 Apr ~ After meeting some lovely families this weekend, all Katie's puppies now have new homes to look forward to. In addition to Mary now being called Ruby, Mark will now be known as Bertie and Mervyn will be known as Dash. Seems strange to say the weekend of the 18 May is not that far away and inbetweenst times puppies have to visit Kim for microchipping, Mr Mason for eye tests and then our vets (and nurses of course!) for their medical ~ as well as all the necessary paperwork and photo's to assemble and puppy DVD's to finish editing and produce for both litters.

25 Apr ~ Quick update, as you do. Mary, Katie's Ruby girl is now called Ruby whilst Mark and Mervyn are looking for new families to live with.





20 Apr ~ Happy 5th Birthday to Honey, Izzie, Murphy, Nero and our own Ziva for today ~ all from Willow's last litter. Whilst the sun is actually shining the move of Katie and her brood went well and they are now ensconced in the puppy area recently vacated by Ziva's little ones and the process of weaning is now well under way.

15 Apr ~ Ours is a very quiet house, ours is ~ well, except for Jade the Grumpy Granny that is. Charlie left for his new home today with his new family and the house seems strangely deserted even though there is Katie's litter of three still here but as they are only just coming up to four weeks old they are, literally, not up to speed yet as they are quite literally just finding their feet.

14 Apr ~ Well the first three puppies left for their new homes yesterday (Mollie, Precy and Reuben), with photo's already coming in of the young ones to be incorporated in their own photo pages, plus Mick and Tricia brought a couple of photo's of Matsy which I will scan and add to her photo page. Charlie, however, will be staying over with us until tomorrow morning whilst his new new family travel back from their holiday, and has been a well behaved young man, sleeping all the night through and being 90% clean - which is good for the first night on his own with no kennel mates. One of the many reasons that I have been a bit lacking in the posting of updates on both sets of pups, mainly to lack of time. With weaning going from strength to strength and then mum barred for the last fortnight, then microchipping by Kim, litter eye test down at Seadown by Mr Mason, health check by our vets and then complete all the necessary paperwork for transfer to the new owners, print handbooks and a goodly selection of photographs for the new owners to see the development of their newest family member growing during the first eight weeks - plus all the necessary daily tasks to accomplish and still interact with Katie and her puppies so that she does not feel put out - and then still find time for nine o'clock puppy mayhem with the adults.......Now we start all over again with Mark, Mervyn and Mary beginning weaning today and then clean down the bottom end of the room in order to move Katie and her babies to the roomier area. These four now have their own photo and pedigree pages which you can find in the usual manner.

As well as the sadness/joy of the pups going yesterday we also had the sad news from Roger and Sarah in Australia that Ruby (from Amber's last litter in June 2009) had passed over Rainbows Bridge on Wednesday last. Roger also sent us a photo of the lady herself on her way to the vets a few weeks ago which I have included below and which will also appear on her own photo page. Our thoughts are with them in their loss for no words can voice the wrench one feels when losing a beloved member of the family.



30 Mar ~ Birthday greetings for today to Queenie, Bertie, Buster, Oscar and Timmy from Willow's first litter as they celebrate their 8th Birthday today.

All of Ziva's pups now have their new names with Frank now called Reuben and Finn will now be known as Percy and will join Monty the Cavalier and others (See below). Early lunch for them today as they are all going to be microchipped soon after! Meanwhile Katie's pups are putting on weight at a prodigious rate and are gradually moving around the whelping box with more confidence ~ just a case of waiting now fore eyes and ears to open.

Plus yesterday we had a welcoming surprise visit from Amanda and Harley on their way back home from their holidays when he got re-acquainted with the girls in rapid succession ~ especially Abbie the Pocket Rocket needless to say.





24 Mar - Firstly In Memorium to the mischievious Sasha, our first Tricolour who was born in 2004 and sadly lost to us early in her life at only seven years of age. What she would make of Abbie, the Pocket Rocket, Lord only knows. Secondly, we had to say goodbye to little Mia on Friday evening as her health deteriorated rapidly for no apparent reason. Just one of those unforseen realities of breeding I know, but it does not make it any easier when a little one loses the struggle so early on in its life. Thankfully the other pups are continuing in their attempts to drink the milk-bank dry as can be seen below.

Meanwhile, in the other puppy play area weaning is progressing with it's ups and downs as it usually does, more toys to play (attack/bite) with are now the order of the day and the outside patio is also being introduced to their 'curriculum'. At the moment only Finn has still to find a new home with Fiona now called Mollie, Fred is now Charlie nad Frank is now, well....Frank, until his new owners decide on a new name for him. Speaking of whom, in the picture below, Frank is doing a close immitation of a rabbit, he is so comfortable. He could be going to take after his mum in his preference for sleeping on his back.


| | |
| --- | --- |
| | |
| Mary ~ Mervyn ~ Mark | Frank ~ Mollie ~ Finn ~ Charlie |


21 Mar - Well all over for Katie now with the final result, after Oxytocin x 2, ultrasound and an x-ray to confirm, was indeed a Black & Tan boy (Mark), a Tricolour boy (Mervyn) and two Ruby girls (Mary and Mia) ~ plus a very early start to the day and a lot of kneeling and waiting for things to happen because you can't hurry Mother Nature. Photo's of mum with her new children below plus a close-up of same and one of Ziva's family settled in for a siesta in the puppy bed in the big sleep/play area.


| | | |
| --- | --- | --- |
| | | |
| Katie ~ Mark ~ Mary ~ Mia ~ Mervyn | Mark ~ Mary ~ Mia ~ Mervyn | Frank ~ Finn ~ Fred ~ Mollie |


17 Mar - 8th Birthday wishes first thing for Teddy, Riley, Holly and Charlotte and In Memorium to their sister Poppy; all from Jade's first litter back in 2011.

Next, update on the family front with Frank, Fred, Finn and Fiona all having moved house yesterday to this BIG open space down the dining room end - with much whinging of course because to a little puppy it is just soooo big! Abbie does help(?) to keep them occupied when she is allowed. Needs must though, because waiting in the wings of course is Katie with her impending births who will need the whelping room/study for their occupation. we will be very surprised if something does not happen before next Sunday ~ which is her due date.

Anyway here are a couple of pictures of the Ziva tribe in fully relaxed mode in bed and enjoying the Sunday morning sunshine.


| | |
| --- | --- |
| | |
| Finn ~ Fred ~ Fiona ~ Frank | Finn ~ Fiona ~ Fred ~ Frank |


28 Feb - Definitely one of those 'Good News, Bad News' weeks this week. The good news side of things is that Monday afternoon saw Katie scanned by Kevin from Fairgolden Ultrasound which resulted in a possible six little babies growing away inside her. Let's hope that this time she has a natural birth and does not have to have another Caesarean.

The bad news side is that in spite of all our efforts and supplemental feeding Felix, the micro-pup of Ziva's litter, sadly had to make the trip over Rainbow's Bridge due to health problems. It really is the down side of breeding for us when we lose a puppy for whatever reason. Glad to say though that Frank, Fred, Finn and Fiona are piling on the weight with Fiona now having her eyes opened to see the world. Speaking of the 'little' ones here is a photo of them taken this evening.





Finn ~ Fred ~ Frank ~ Fiona



18 Feb - Firstly, one birthday to celebrate with Zolo for his 12th on the 20th February and In Memorium to his brother Jonty; both from Sasha's first litter way back in 2006.

Plus, for Ziva the wait is finally over ~ two days over in fact! With labour beginning Friday night and 'dragging on' through the early hours and into the day we eventually had to visit our favourite vets for Nazeema to examine her. As there was a puppy in the birth canal an injection of Oxytocin was called for and, with what was probably the fastest reaction on record, literally five minutes later out popped Frank (192g) at 4 o'clock followed by Fred (159g) at 4:05 o'clock and little Felix (110g) at 4:16 o'clock. All three Blenheim boys and as it's February all names beginning with F seemed appropriate for their initial names. Needless to say everything then went quiet and, as Pet Doctors closes at 4:30 on a Saturday, Oxytocin number two was given at 4:45. As nothing had happened by 5:15 we all agreed we would be homeward bound and contact the emergency vets if nothing happened at the end of a two hour period. Needless to say madam started digging on the way home, got through the door and into the whelping box with the boys and at 17:37 along came Finn (185g) ~ yet another boy, but a Tricolour this time. We could not decide whether we could feel another puppy and everything went quiet.......... Until 7:10 when out popped another Tricolour but this time it was actually a girl ~ Fiona weighing in at a gramme's difference from her brother at 184g. Pictures of mum and her babies below.

Then in about five weeks time (hopefully) do it all again with Katie!!








Proud mum with her babies......
......Pups are always hungry, however......
......They do eventually sleep.
Fred, Finn, Felix, Fiona and Frank


3 Feb - A couple of more photo's to share. Firstly, one of birthday boy Hamlet, courtesy of Mariam and Marlon, and secondly, one of Honey, Rosie and Poppy all snuggled up together, courtesy of Mark and Becky,


| | |
| --- | --- |
| | |
| Hamlet | Honey, Rosie and Poppy |


2 Feb - Another birthday celebration, in this case it is Happy 1st Birthday to Prince and Hamlet for the 2nd February from Ziva's first litter last year. Speaking of whom, bless her she is looking somewhat rotund with only a fortnight to go - as seen below. Also I have finished going through the remaining photo pages with revisions to Ollie, Oscar, Ralph (2), Rosie, Ruby, Teddy (1), Ziggy, Zak, Zolo, and of course Prince


| | |
| --- | --- |
| | |
| Ziva | Prince |


28 Jan - Birthday time again and this time it is Happy 12th Birthday to Zak and Monty, and Requiescat In Pace Hollie for the 28nd January ~ all from Lucy's very first litter in 2007.
Plus updated photo album pages have been revised for Alfie, Bertie, Buddy, Chunk, Duchy, Izzie, Jasper (2), Louis, Marbles, Matsy, Max (2), Millie, and Nico ~ just fitting updates in around everything else takes more time than you would think I have to say, but I would not have it any other way.

25 Jan - I promised that I would update the website with Ziva's scans when we received them and so, here they are....amazingly even I could interpret them which is unusual for me.



20 Jan - Firstly, Happy 12th Birthday to Bumble, Lola, Ollie, Charlie and Dylan from Amber's third litter in 2007 for the 22nd January
Secondly, Happy 11th Birthday for the 25th January to our very own noise machine ~ Jade.
Thirdly, results positive with our trip to Barton on Sea with Ziva - the ultrasound scan show four puppy sacs with a possibility of a fifth hiding under the ribcage. Hopefully things will progress to a positive result. I will post a scan
picture or two when Kim sends them to us.
Fourthly, with Katie deciding to come into season almost a month early we have decided to mate her, and so off we go to High Wycombe tomorrow with her to see that nice young man Chutney. Hopefully this time it will culminate
in a natural birth and not a Caesarean.
Throw into that mix a visit to outpatients as Royal South Hants, walking the girls every day and shopping trips it's no wonder I haven't had a chance to update the photo pages yet - but I will make every effort to catch up on the
task - especially having received so many new pictures of the, now, grown up ladies and gentlemen by email and snail mail.

13 Jan - No birthdays to celebrate this week but we are off to Kim and see if Ziva (of the ever-expanding girth) is pregnant after her visit to Alfie before Christmas. Then, if our suspicions are confirmed, there should be puppies in about four weeks time. Then to top it all, Katie has decided to come into season early - so in about ten days we shall be heading in the opposite direction to see our friend Chutney in High Wycombe. Guess it means the second whelping box is going to come into use again. It's been a while since we had two litters adding to the mayhem around the home. That's the 'easy' part these days with the new government/local government rules and regulations on breeding. The new form in it's council checklist form is about forty pages of written text boxes which took about three and a half hours to complete with Sue our wonderful Animal Welfare Officer who has to do the whole area on her own - and ours was a renewal. Add another half to an hour for new applications. Hopefully it should make it harder for the puppy farms, but I'm not convinced, I think that the amount of paperwork and the shear cost of it will put a lot of small breeders off from carrying on.

On a lighter note now the Christmas cards have come down I have been able to scan Nico's picture plus I did not realise that I had not added the latest picture of Chunk - apologies to Sydney and family. So here they are.


| | |
| --- | --- |
| | |
| Nico | Chunk |


1 Jan - Firstly we would like to wish all our friends and family a Prosperous New Year ~ may your fortunes be large and your troubles small.

Secondly, we would like to wish Happy 5th Birthday to Patch, Teddy, Coco and Sophie for the 2nd January

Thirdly, here are a collection of Christmas day photo's we received






Ollie
Prince




Ziggy
Duchy


Ruby
(Down under in Australia)


20 Dec - And before the ink was even dry we also received more Christmas photo's of Max from Julie and Rosie & Jess from Vanessa. All looking very well for their collective ages.


| | |
| --- | --- |
| | |
| Max | Rosie and Jess |
19 Dec -Firstly, Happy 11th Birthday for today to Marbles, Gizmo and Sizzles from our dear Sasha's second litter in 2007, hope you all enjoy your special day with lots of treats.

As well as that we have had a busy past few days as on Friday we took Ziva down to Barton on Sea to see Abbie's dad Alfie (Jolainey Rolls Royce for Burleybeck) which as usual involved sitting on the floor for an half-hour. Then Saturday was our daughters 4xth birthday so we took her, hubby Bob and mum-in-law (a mere 93) out for a meal ~ which meant no cooking for moi. Sunday it was the parish Christmas meal and party ~ again no cooking for me. Followed on Monday by my birthday (67 before you ask) so funny old thing we went out for a meal ~ bliss no cooking. Tuesday back to normal ~ yes back to cooking!

Following on from that we have also received more photo's which of course will end up on the respective ones photo pages when thing quieten down a bit. First we have Zolo from Sasha's first litter~ who will be 13 in February, then his house-mate Zak from Lucy's first litter ~ who will be 12 in January, next is Jasper from Crystal's second litter at 1-1/2 and finally the young lady called Matsy from Katie's first litter at just over a year old.



10 Dec - Happy 10th Birthday for today to Louis, Coby, Jasper and our own scamp Willow from our dear departed Sasha's third and last litter in 2008 ~ speaking of which here are pictures of Willow and Louis enjoying life as ten year olds and two of Keira (Lucy's sister) enjoying life at 14 years young looking incredibly like her mother at the same age.


| | |
| --- | --- |
| | |
| Willow | Louis |
| | |
| Keira's 14th Birthday party..... | .....and resting after a walk |


8 Dec - Happy 11th Birthday for today to Bailey and In Memorium to brother Charlieboth from Lucy's second litter in 2007 ~ truly amazing how the years fly by. As an aside though Ziva has just decided she will have a season so in about ten days time off we will go to see Abbie's dad (Jolainey Rolls Royce for Burleybeck) ~ watch this space as they say.

27 Nov - Happy 7th Birthday for the 27th November to Stan and Hendricks - hope you boys have a wonderful day. In addition Vicky has sent us a couple of brilliant pictures of Izzie which I have included below.


| | |
| --- | --- |
| | |
| Izzie with her new kennel companion | Izzie out for a stroll on the water |


11 Nov - Just received another 1st Birthday photo today - this time it is Cilla marking the occasion. Said photo below with her web page updated as well.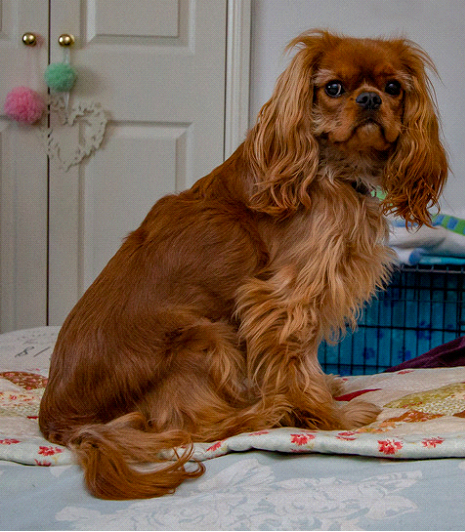 Cilla



11 Nov - Well been a bit lax at updating the website of late but (as a lame excuse) I am busy working through the last half of the alphabet for photo pages but nonetheless we can always spare the time for birthday wishes and in this case it is Happy 1st Birthday to Bugsy, Cilla, Matsy and Nico from Crystal and Chutney's litter last year. Hope you all enjoy your special day and below I have included pictures of Matsy and Nico which we have just received to mark the occasion.


| | |
| --- | --- |
| | |
| Nico | Matsy |


26 Oct - Happy 3rd Birthday to Mouse and Rosie the brother and sister from Crystal's (Enigmai Lady Crystal Megara) first litter with Ace (Enigmai Sir Triphane Cadmus at Pacchibei). Enjoy your special day.

8 Oct - Finally accomplished this years update/review of all the photo pages for A to M which took longer than normal as it turned out not only were there 100 pages to review but quite a few new photos to add as well. Next comes the photo pages for all the dogs in the range N to Z ~ might not be as many.....

26 Sep - Just a few birthday wishes today ~ firstly let us wish Keira, Duchy and Ralph a very happy 14th birthday and In Memorium to their litter-mates Lucy, Molly and Monty.
Also happy 13th birthday Maximus and Poppy and In Memorium to to their brothers Diesel and Harvey
and In Memorium to first two puppies we ever bred back in 2002 without which we would not carried on breeding ~ sadly missed.

23 Sep - Firstly let us wish Chloe a very happy 14th birthday and remember her sister Buffy. On the other side of the spectrum I managed to finish the compiling and editing of the pups early weeks from birth so now Bo, Buddy, Harley and Ralph's owners can see what fun they were. Still in the process of updating all the various webpages but unfortunately life keeps getting in the way of everything I plan ~ which is annoying as we have received quite a few photo's that need to go on the appropriate pages. We must also thank the many friends and others for the numerous commiserations and cards on the loss of our beloved Lucy ~ it would have been a lot harder to bear without the pups and the rest of the girls to keep us focused.

31 Aug - Well the end of an eventful month as well as the official meteorological end of summer and I have finaly updated the website with Bo, Buddy, Harley and Ralph's own pedigree and Photo pages. Unfortunately I have also had to update the Rainbow Bridge page to take into account the passing of Jonty, Charlie and Lucy ~ but I have also changed the rainbow poem to a more poignant one. Also, in honour of the perennial granny-ship of Lucy I have added another Lucy photo page dedicated to her love of ALL puppies not just her own. Now ~ all I have to do is edit two months of puppy videos to make one DVD!

15 Aug - Buster/Geoffrey has undegone another name change and will now be known as Buddy he will be off to live in New Milton with his new owner come Saturday.

11 Aug - Well Bo and Ralph have now departed to join their new families and already it feels strange. Harley is due to depart on Monday but sadly, due to circumstances beyond their control, Geoffrey is now not leaving tomorrow and is consequently looking for a new home. The young man in question is pictured below.



3 Aug - With a very sad heart we have had let Lucy travel over Rainbow's Bridge. All her ills, aches and pains suddenly coalesced today and with the terrible heat meant she could not get a proper drink without collapsing and could not get comfortable in any position so we had to make that terrible, but inevitable, decision. Like her mother she passes on just shy of her 14th birthday - the gentlest of gentle grandmothers and granddaughters who gave us thirteen boys and girls and was always ready to play with puppies. Sadly missed. Here is a photo of the lovely lady I just happened to take this afternoon when she was looking her best.


Requiescat In Pace