| | | |
| --- | --- | --- |
| | Enigmai | |
Welcome to our puppy page


A ball of fluff appeared one day.
Two ears appeared, a nose and eyes.
Where it came from - who can say?
Four paws - and then - to my surprise.
It rolled around the kitchen Floor.
The little ball of fluff and stuff
And stopped just by the kitchen door.
said "I've arrived, with lots of woof!"


Always remember that owning a dog is a commitment from both of you. You promise to look after him (or her) for the rest of their lives, feed, groom and clean up after them, exercise them, play with them and let them creep into every part of your family's life. They on the other hand promises to love you with great affection, give you hours of company, cheer you up no matter how sad you are and always give you their undivided attention and unconditional love.



It isn't just a slogan - a dog REALLY IS FOR LIFE!



As responsible dog breeders we will always feel responsible for a dog we breed, no matter how old, and if an owner who purchases one of our puppies finds at any time in the dogs life that they are unable to keep it we will always take it back until a suitable home can be found for it.



Before we sell one of our puppies we always insist on meeting the prospective owners and that they see the puppy in its own environment with mum and any litter-mates. Buying one of our puppies is a two-way street - we vet each new owner and their lifestyle every bit as much as we expect them to vet us and ours. We always talk through the good, and bad, points of Cavaliers and what they can expect throughout the puppy's development.



All our puppies are Kennel Club registered and leave us with four weeks free insurance from the Kennel Club. No puppy leaves our home until it is at least eight weeks old and will have been checked by our vet when it was born and immediately before going to its new home - in addition the puppy will also have had an eye exam carried out by an opthalmologist and have received its microchip (Compulsory from April 2016), as well as being wormed three times with Drontal and sprayed with Front Line. We always insist that new owners have their own vet check each puppy and arrange for it to have its innoculation programme arranged as soon as possible - at time of writing this has been extended to minimum of eight weeks old for the initial injections.



When they leave us each puppy (and its new owner) will receive a 'Puppy Pack' containing:~

a.Sufficient puppy food to last at least one week
b.A toy
c.A 'blankie' imbued with mum and kennel mates scents
d.Puppy Registration/ Transfer of Ownership Certificate
e.Copy of free Kennel Cluub Insurance Certificate
f.An information folder containing
(1) Owners copy of the Sales Contract
(2)Petlog change of ownership for the puppy's microchip (Compusory by law from 2016)
(3)Copy of the puppy's pedigree showing pictures of ancestors wherever possible
(4)Copies of parents heart and eye certificates
(5)Copies of any other relevant health screening certificates
(6)Worming and weight records
(7)Diet sheet
(8)Advice sheets on what to expect for the first few days, possible items to purchase for puppy, immunisation, Cavalier health issues, socialisation, exercise, puppy play, dangerous plants, grooming and useful tips.
(9)List of contacts for regional Cavalier clubs
(6)A copy of photo's we have taken from the birth of the litter until puppy's final weeks with us.
g.A DVD of puppy's first weeks with us will follow at a later date (when all the clips are edited together) so that new owners also have a chance to enjoy puppy's initial development stages.


Things new owners need to do/shop for
The most important thing to do BEFORE collecting puppy is to make sure the garden and its boundaries are 'puppy proof', and that covers are put on or fencing is put around any ponds. Puppies are like cats - if there is the least gap they will get through it - we know from experience! Also ensure that all electric cables are secured or hidden out of reach/sight of puppy - another thing learnt from experience in the days prior to wireless keyboards.



Source a recommended puppy training class in the local area and when you know dates book puppy in for his first lesson. Handy to get some light, puppy sized treats for use as rewards for good behaviour during training - i.e. Coachies.



Keep a good selection of toys available for puppy to play with and chew on - better a toy than your furniture or shoes. Keep all the toys in a toy box, which should be left in the same place so that he knows where it is, and regularly check toys for wear and tear.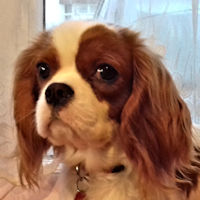 Buy the shaped bowls for food and water - Cavaliers have long ears, which will fall into flat-sided bowls. Some owners prefer to use a snood when feeding their Cavalier for this very reason.



Whether he sleeps in a crate/cage overnight or a dog bed, make sure that all family members understand that it is his 'room'. He will go there for peace and relaxation/sleep throughout the day and, as with two-legged puppies, does not want to be disturbed by intruders.



All our puppies come with a lifetime help line and indeed we try to answer any question put to us or we will find out if we don't know the answer.




e-Mail us here
Reviewed:~ Nov 2018